Welcome to Fall River Homeless Service Providers Coalition!
Homeless Services: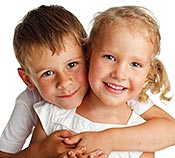 The Fall River HSPC seeks to provide quality of life to the formerly homeless and empower them to live as independently as possible.
The Fall River Homeless Service Providers Coalition's (HSPC) mission is to:

work towards eradicating homelessness in Fall River, MA
to improve access to mainstream resources
to assist in the transition from homelessness through the continuum of care
to provide supportive services
to help maintain housing
to prevent discharge of homeless people to the streets
and to employ a quality Homeless Management Information System (HMIS) that accurately tracks and counts the homeless.
If you or some you know is homeless or at risk for homelessness please contact us today.

Due to recent weather events, we are going to make another attempt at conducting the Point-in-Time Count and the Unaccompanied Youth Surveys on February 18-20.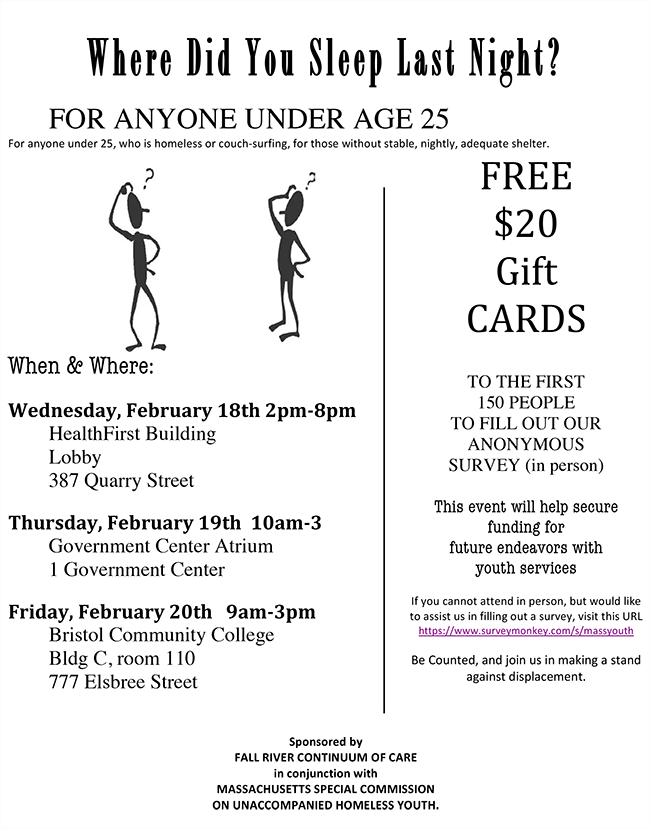 As you may know, the Fall River Continuum of Care (CoC) conducts an annual Point-in-Time Count of the city's homeless population on the last Wednesday of January.  The survey is mandatory by the federal Department of Housing and Urban Development in order for the City to apply for funding for housing and services for the homeless.
Last year, the state Department of Housing and Community Development asked all CoCs across the state to make an unprecedented effort to reach out to any Youth under age 25  living without a guardian and without a fixed residence.  The effort in Fall River resulted in 129 surveys completed, 38 identified as the aforementioned definition of homeless.
The astonishing numbers across the state resulted in the House, Senate and Governor all signing the Unaccompanied Youth Homeless Bill to create a Commission to study and make recommendations to assist this difficult to identify and underserved population.
We are asking for your help.  We are making available flyers (attached) and asking that you post them on your bulletin boards, your respective websites, TV channels as a PSA, or use on your TV/radio shows for discussion/announcement.
The flyer has all the relevant information that I think you'll need.  If you'd like them on the florescent background, please contact me.
The FRCoC and the City have made tremendous strides in housing the homeless, but the need in our area has not diminished.  Please do what you can in getting the word out!
There are several of us available for any questions or further discussion you'd like to have on the subject.
Thank you for your consideration of my request!
Mary D. Camara, Coordinator of Homeless Programs
Fall River Community Development Agency
One Government Center, 4th floor
Fall River, Massachusetts 02722
phone: 508-679-0131 fax: 508-679-0752