Welcome to Fall River Homeless Service Providers Coalition!
Homeless Services: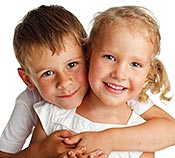 The Fall River HSPC seeks to provide quality of life to the formerly homeless and empower them to live as independently as possible.
The Fall River Homeless Service Providers Coalition's (HSPC) mission is to:

work towards eradicating homelessness in Fall River, MA
to improve access to mainstream resources
to assist in the transition from homelessness through the continuum of care
to provide supportive services
to help maintain housing
to prevent discharge of homeless people to the streets
and to employ a quality Homeless Management Information System (HMIS) that accurately tracks and counts the homeless.
If you or some you know is homeless or at risk for homelessness please contact us today.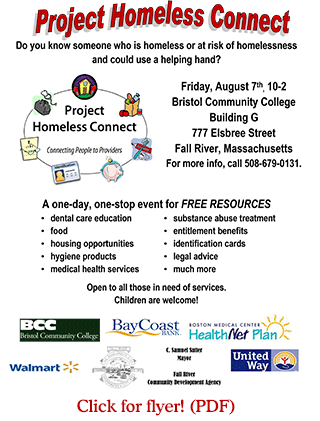 The Fall River Homeless Service Providers Coalition (HSPC) and the is organizing its sixth annual Project Homeless Connect event, a one-day, one-stop offering of services designed to provide people who are homeless or are at-risk of homelessness what they need to move toward housing and stability.
Project Homeless Connect will take place on Friday, August 7, 2015 at Bristol Community College, 777 Elsbree Street, Building G (cafeteria), Fall River.  The schedule is 10:00 a.m. until 2:00 p.m., with a short speaking engagement preceding.
Every year since its inception, the event has been increasingly successful.  More than 40 vendors provide adults and children with housing opportunities, hygiene products, mental health services, substance abuse treatment, SSI benefits, employment counseling and job placement, dental services, health screenings and services, family planning, food stamp applications, breakfast, lunch, and backpacks filled with snacks and other supplies.  Free transportation is provided to and from the event as well as to the Registry of Motor Vehicles so that folks can obtain their state identification.
Please accept this invitation to participate in Fall River's Project Homeless Connect event.  If you are interested in participating, please contact:
Mary Camara:                    508-679-0131                     MCamara@fallriverma.org
We wish to accommodate as many vendors as possible, but space is limited.  Please reserve your table accordingly.  If you cannot or do not want to be present but would like to have something handed out at the event (business cards, flyers, discount coupons for your services, etc.), this can also be accommodated.